Real-time plots auroral activity
Welcome on SpaceWeatherLive! Below you will find the status of the solar wind and the Interplanetary Magnetic Field (IMF) from the past two hours as measured by the ACE spacecraft. These parameters are the first parameters used to predict auroral activity. The redder the plots get, the better it is for auroral activity! The numbers after the word ''ETA'' on each plot shows how long it will take for the solar wind to propagate from ACE to Earth. The Kp-index is a global indicator of auroral activity on Earth on a scale from 0 to 9. Press the ''Help'' button below each plot for more information! Happy aurora hunting!
Kiruna Magnetogram
This magnetogram gives you the values measured by the ground station of Kiruna (Sweden, Europa). For European middle latitude auroral activity the deflection in the magnetometer data should be more than 1300nT. If you are not located in Europe, please consult a magnetometer near your location for a more accurate representation of the current geomagnetic activity.
EPAM - Electron Proton and Alpha Monitor
EPAM stands for the electron, proton and alpha monitoring and is an instrument on the ACE satellite that measures the electrons and protons that are sent with the solar wind. This is a very useful tool whether the CME is directed towards the Earth and when it will happen.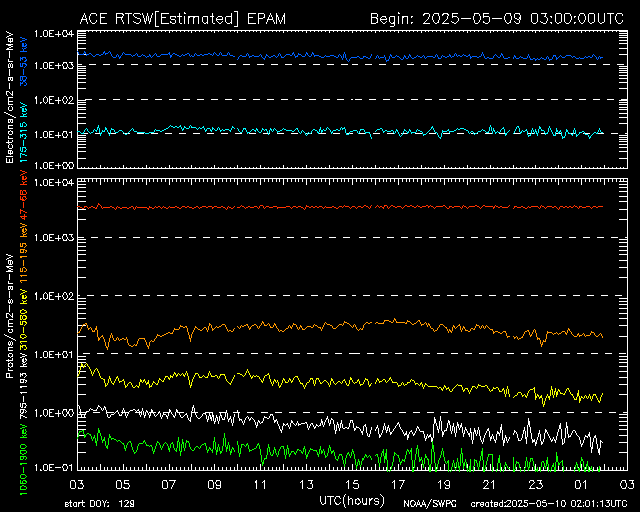 Real-time solar activity
Sunspot regions
Region
Number of
sunspots
Class
Magn.
Class
Spot
2409
2
β
CRO
2410
3
β
CRO
2411
1
α
HSX
Solar flare
1% chance for an M-class solar flare
1% chance for an X-class solar flare
Events on the sun today
Below you'll find an overview of the solar flares that occurred today on the Sun, ordered by the time of the event. If nothing worthy happened, nothing will be displayed. For more flares from the past days or years, you can dig into our archive.
| region | | Start | Maximum | End |
| --- | --- | --- | --- | --- |
| 2410 | B3.0 | 02:11 | 02:15 | 02:20 |
| 2409 | B2.2 | 10:06 | 10:10 | 10:13 |
More events in the archive
Farside