Real-time solar images
STEREO
The NASA Solar TErrestrial RElations Observatory (STEREO) mission consists of two identical spacecraft which were placed in two different orbits around the Sun. STEREO Ahead was placed slightly closer to the Sun than Earth and STEREO Behind slightly further away than Earth. This causes them to respectively pull farther ahead of and fall gradually behind Earth's orbit and thus exposing the farside of the Sun. On the site you will find data from the SECCHI instrument: the extreme ultraviolet imager (EUVI) camera showing the Sun in the 195 Ångström wavelength and two white-light coronagraphs: COR1 and COR2.

| STEREO Behind | STEREO Ahead |
| --- | --- |
| | |
| | |
| | |
Where are STEREO A and B right now?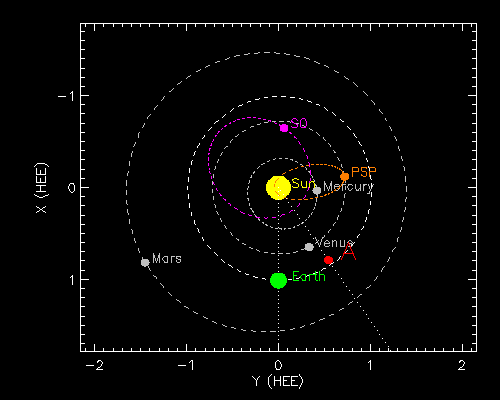 Courtesy of STEREO (NASA)
Current data suggest that it is not possible to see aurora now at middle latitudes
Latest news
Today's space weather
| Auroral activity | Minor | Severe |
| --- | --- | --- |
| High latitude | 30% | 25% |
| Middle latitude | 5% | 1% |
| Predicted Kp max | 4 | |
Solar activity
M-class solar flare
20%
X-class solar flare
1%
B2.2
Moon phase
Waxing Crescent
Support SpaceWeatherLive.com!
A lot of people come to SpaceWeatherLive to follow the Sun's activity or if there is aurora to be seen, but with more traffic comes higher server costs. Consider a donation if you enjoy SpaceWeatherLive so we can keep the website online!
Space weather facts
Last X-flare:
2017/09/10
X8.2
Last M-flare:
2017/10/20
M1.0
Last geomagnetic storm:
2017/10/15
Kp5 (G1)
Number of spotless days in 2017:
68
Last spotless day:
2017/10/20
This day in history*
*since 1994
Available languages